An inclusive bus design system concept for Visually Impaired users in Hong Kong
Hong Kong with it's high population and congested spaces has bus stops with multiple poles catering to various bus routes, lined up on busy footpaths. Such a setting poses several challenges for
Visually Impaired People (VIP)
in accessing the public buses. @rrive aims to smoothen the journey for VIPs and assists them in travelling to their right bus. The system proposal works around a combination of directed tactile paths and broadcasting necessary information through braille and sound.
More
information
Swasti Sethi, Charlie Chen, Melody Chong, Zhan Wen


From the research, we could narrow down the main challenges a Visually Impaired User encountered while trying to look for their right bus stop and based on that, we ideated using existing technology of RFID trackers, tactile paths and different notification methods to guide the user.


Storyboarding + Prototyping

While researching we realised that the term Visually Impaired People does not necessarily pertain to completely blind people but is a broad term that includes all people with visual impairment. Taking this into consideration, our ideas included larger, contrasting fonts and information boards that can be useful for all users with low sight including the elderly, thus leading to the concept being more inclusive.


User Journey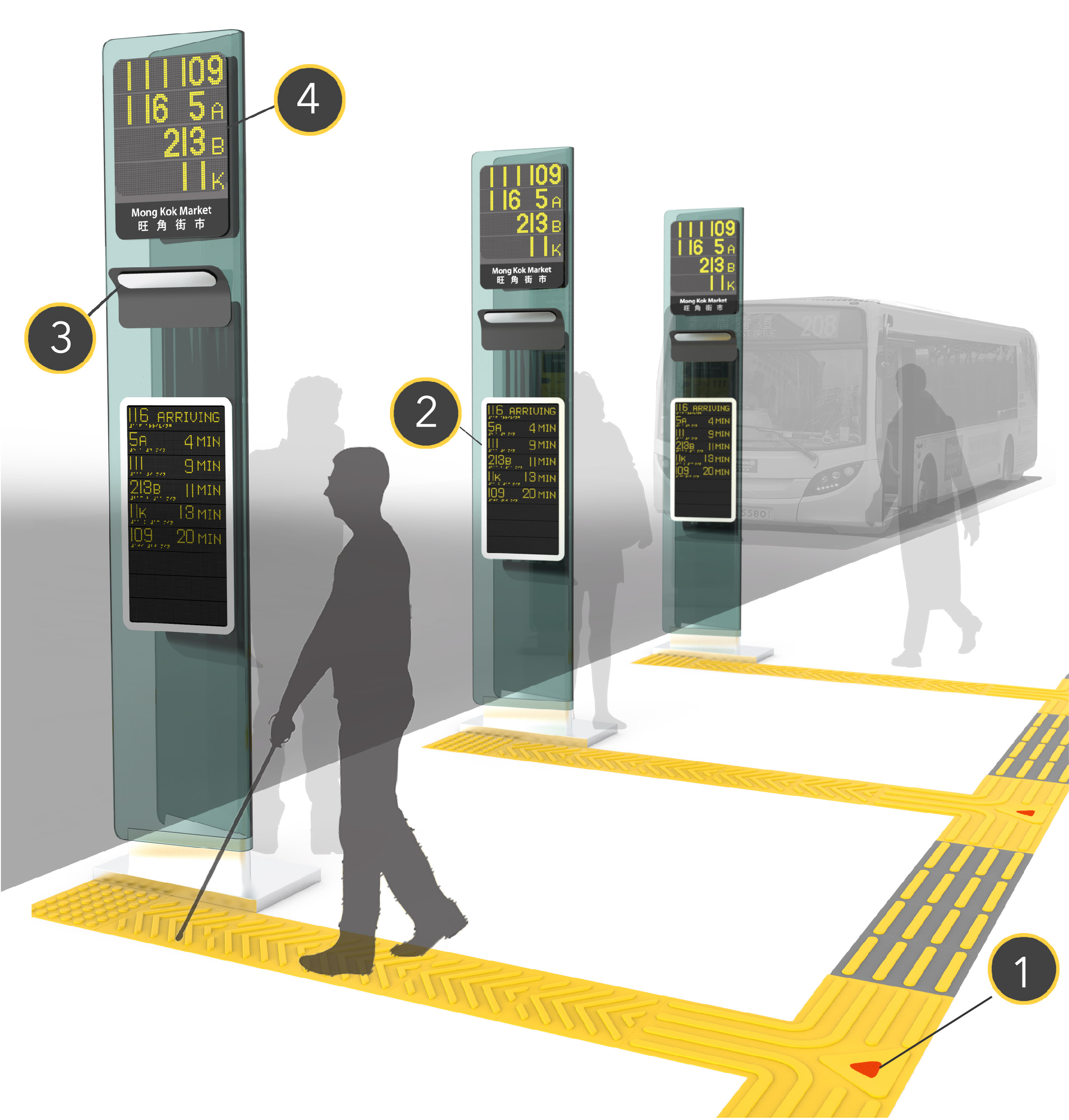 How @rrive works

The VIP is guided to the bus poles through specially directed tactile paths. The user's white cane can tap on notification tactiles present at every bus pole intersection to hear the names of the buses, each respective pole caters to. On finding their right bus pole, the VIP follows the tactiles towards a refreshable braille info panel for VIP to touch and other passengers to see regarding bus status. Lastly, when a bus arrives, a sound based broadcast accompanied with blinking of large contrasting fonts to notify all passengers of the arrival of a bus.

To be exhibited at HKSDA Awards, August 2020